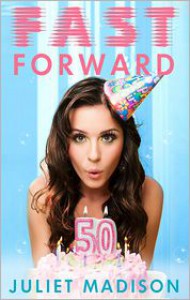 Aspiring supermodel, Kelli Crawford seems destined to marry her hotshot boyfriend, but on her twenty-fifth birthday she wakes in the future as a fifty-year-old suburban housewife married to the now middle-aged high school nerd.

Trapped in the opposite life of the one she wanted, Kelli is forced to re-evaluate her life and discover what is really important to her. Will she overcome the hilarious and heartbreaking challenges presented to her and get back to the body of her younger self? Or will she be stuck in the nightmare of hot flushes, demanding children, raunchy advances from her husband and hideous support underwear forever?
If you woke up one day as your future self and found out that the future you were living was nothing like the one you had planned – what would you do? When Kelli Crawford wakes up expecting to be celebrating her 25th birthday dressed in her flashy red dress with her hunky celebrity photographer boyfriend, but actually finds herself in a strange house with a strange husband and the prospect of turning 50, let's just say that wasn't quite what Kelli expected for a birthday present!

I just loved this book and the story it told. I couldn't help but be reminded of the quote by Leon Brown as I read this book – "Life does not always give you what you want, but if you look closely you will see that it gives what you need for growth." I loved the whole concept of the Fast Forward – being transported to the future so that you can learn what you need to so that when you go back in time you will make the right choices. As Kelli navigates through her day, meeting the children she never planned on having, discovering the incredible man she has married, and finding out all that her future has brought her, it was hard not to find yourself silently cheering for her to open her eyes and see that this version of her future was so much more than she initially envisioned for herself.

Juliet Madison has written such a wonderful story that delivers a very powerful message underneath the humor and love – it's not often that a romance novel makes me stop and think of my own life and choices, but Fast Forward does just that, which just adds to its appeal!